Office 365 Manual: Microsoft SharePoint
Whether you're already familiar with some of the Office 365 programs or need to get to grips with Microsoft SharePoint, our series of Office 365 Manual blogs are here to help. In each instalment, we'll look at a different element of Microsoft Office 365.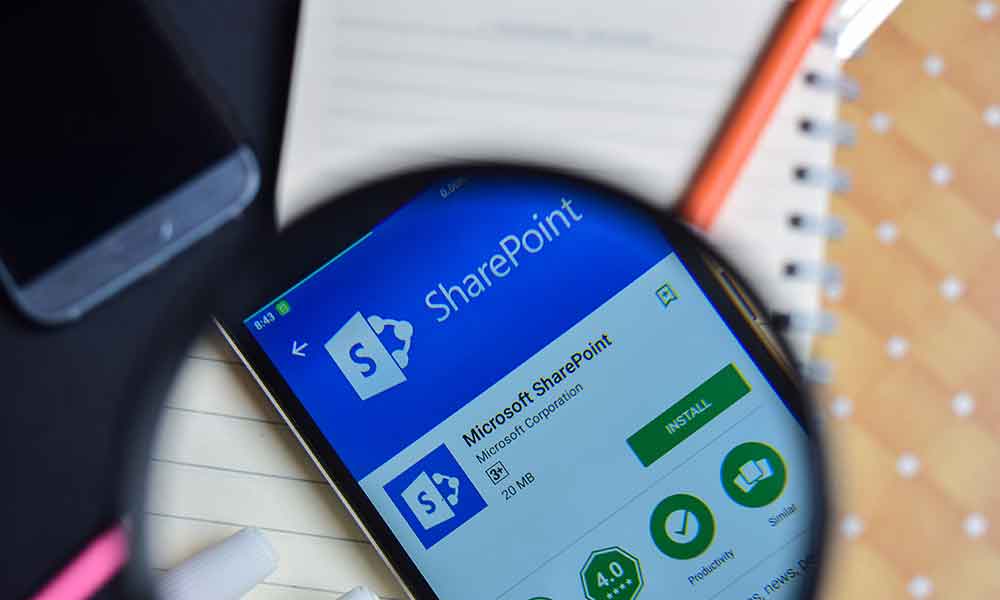 Today we're going to learn more about Microsoft SharePoint, a document management platform.
What is Microsoft SharePoint?
Microsoft SharePoint is a browser-based collaboration and document management platform – but what does that actually mean? It's a content management system that lets you host files and information online so that they can be accessed by others. In short, it's a content management system that can be used, for example, to set up a company intranet.
Overview of Features
Microsoft SharePoint has a wealth of useful features that you might wish to take advantage of such as communication hubs, customisable templates, Power App and Flow. The tools right for you and your business will vary depending on how you wish to use the service, but we're going to take a look at some of the best and worst features.
Best and Worst Features
Best 3 Features of Microsoft SharePoint
Power App integration – If you've ever wanted to create your own web or mobile app but can't afford to hire a developer, you can use Power App to design an app that can be used by your whole team.

Communication hubs – It's easy to create customisable intranet sites where you can collaborate on projects with others. The available templates let you brand a particular project and the sites can be accessed from almost any device.

Social networking – The social networking feature on SharePoint makes it easy if you're working remotely with a team. This helps keep the team connected and you can set up your own profile, follow others and send IMs.
Worst 3 Features of Microsoft SharePoint
Not many templates to choose from – There simply aren't enough options to choose from when it comes to templates and it can be hard to customise them if you don't have coding experience.

Complexity – Getting started using SharePoint can be confusing and some of the services are complex. When you first start, things can be a bit overwhelming without support.

Browser compatibility issues – The sites you create using SharePoint are supposedly compatible with the major browsers like Edge, Chrome and Firefox, however some users have experienced lag and issues when opening sites with Google Chrome.
What Problems Does it Solve?
If you're setting up a company intranet or sites for collaborating on projects, you need Microsoft SharePoint. It's an affordable way to set up sites for collaboration or storing files and information which can then be accessed by anybody in the company, at the office, at home or on-the-go. It makes working together on projects easier, even when your team are all working from different locations.
Who is Likely to Use Microsoft SharePoint?
Microsoft SharePoint is mostly designed for business use, and here are some of the most common users:
Creatives – If you're a creative working on a project remotely but want to share files and information with team members at the office, SharePoint makes it easier to do so.

Companies of all sizes – If you're collaborating on a project and have staff from various departments working together, you can set up a SharePoint site to share the information needed amongst team members.

Freelancers – For those who work from home or generally work remotely on projects, setting up specific project sites with client branding is easy using SharePoint.
How Much Does SharePoint Cost?
With Microsoft SharePoint, there are different payment and membership options to choose from so you can choose the right option for your budget and needs.
Online Plan 1 is ideal for small and medium sized businesses and costs £3.80 per user a month

Online Plan 2 costs £7.50 per user a month monthly

Office 365 Enterprise 3 is the full package, costing £17.60 per user a month and includes a subscription to Office 365, allowing you to use the whole host of Office applications
NECL are happy to provide advice and assistance choosing the right option for your business, whatever its size. It may be that you need bulk licenses and we can help you choose the right plan to suit your requirements. As well as providing assistance with purchasing, NECL can help you implement SharePoint and take you through the set up of the software, so it works in the most efficient way for your company. We can even provide IT support if you experience any issues using the software in future.
Technical Information and Properties
Microsoft SharePoint can be used on multiple devices including Windows, Mac, Android, iPhone and iPad. There are mobile apps available and the sites you create can be viewed on most major browsers including Edge, Firefox and Chrome. You can download Office 365 on your PC or Laptop. The minimum system requirements are: 1GB RAM (32-bit) or 2 GB RAM (64-bit). 3GB of disc space is required for downloading. The download can also be customised to remove unwanted applications.
Help and Support
Help and support is available directly from Microsoft at https://support.office.com/en-us/sharepoint. You can also find support by contacting IT support providers (such as NECL), using online forums and videos or speaking to the IT department at your work or college.
Alternative Products
There are several alternatives to SharePoint, the most popular ones being Google Drive, Workzone, Box for Business and Confluence.
Conclusion
Microsoft SharePoint is a great content management system and document management platform that runs from your browser. For small, medium and even large businesses looking to set up a company intranet or collaborate remotely on client projects, it has some invaluable tools and is able to integrate with the full range of Office 365 software.